I am inspired to help children who show signs of low self-esteem and/or emotional wellbeing difficulties. I would like to do this by working alongside teachers from prior-to-school services and even primary schools.
Working together as a team, we can empower children's voices, which in turn will heighten their view of themselves, their self-concept and self-esteem, and emotional wellbeing. This will build a stronger and more confident identity of 'who I am'.
The major goal of ACTVoices is to support children BUILD a strong and confident self-esteem and socio-emotional wellbeing. This will

STRENGTHEN FOUNDATIONS

that will shape their self-identity, as well as develop their sense of 'belonging', 'being' and 'becoming' that will have long-lasting effects well beyond the early childhood years.
HOWEVER…
It all starts with supporting and improving the

emotional wellbeing of directors, leaders and teachers

.
ACTVoices…
OUR MISSION

– EMPOWERING VOICES. BUILDING WELLBEING. SHAPING IDENTITY.
OUR VISION

– PARTNERSHIPS. BRIDGES. COMMUNITY.
OUR VALUES

– BEING HEARD.

BUILDING STRONG TEAMS  AND  EMPOWERING CHILDREN'S VOICES.

As we BUILD STRONG TEAMS we can run encouraged, peaceful, and calm teams for the benefit of each other, our families and our children.

In this way, this will help you and your team MOVE OUT OF challenges, and INTO action, BY DOING something about your situation. So ACT, find your voice and be empowered by the voices of all of us together.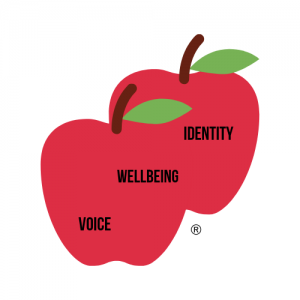 Giving children a VOICE through opportunities to assert and develop their independence and self-efficacy (or self-agency) skills will increase their self-esteem. As a result, children will build an accurate self-concept as they VALUE themselves and build a strong SOCIO-EMOTIONAL WELLBEING. This will lead to the shaping of a confident SELF-IDENTITY as they accept themselves for 'who they are'.
Together, we can also build and strengthen PARTNERSHIPS and RELATIONSHIPS with families.
In having these stronger relationships WITH FAMILIES, we can be the BRIDGE for families in connecting them with their community and to help them access the services to support and strengthen their family unit.
In doing so, this will build a wider and stronger COMMUNITY NETWORK who can support each other.
STRENGTHENING CHILDREN'S FOUNDATIONS BY…
EMPOWERING

children's AND teachers' voices. This will heighten their view of themselves, knowing that they can and do make a difference.

In doing so, BUILDING  a strong socio-emotional wellbeing for all.
As a result, SHAPING a confident self-identity of 'who I am', which is what we want for all children, so they can live up to their potential and beyond.
Come and read more about the mission, vision and values – strong teams of ACTVoices, and explore the website.